Powerful Antarctic blast to hit SE Australia
Not that you can ski at the moment due to the incessant lockdowns across SE Australia, but later this week would be a fantastic time for skiing in what has been a bumper year for snow across the Australian Alps with some of the best skiing in years.
This next frontal system may create a powerful ECL (East Coast Low) which will mix warm air in central Australia with cold Antarctic air. This mix is likely to push heavy rain, snow, sleet and heavy downpours into already saturated ground int he SE of the country.
Although all models are varying on the location and length of its stay, this sort of system has a propensity to stall if the trailing High Pressure system is not strong enough to push it further into the Tasman ocean.
Likelihood of another cooler and wetter spring and summer (2021-2022) 22/06/2021
I have been predicting a double dip LaNina with strong Indian Ocean Dipole (IOD) for over a year now as there are growing empirical data alignments between sunspot numbers and that energy fluctuating through the Pacific ocean surface temperatures. These usually have some variations from cycle to cycle but are quite apparent to me. These predictions have been public via facebook and through private groups.
Meteorological agencies that predict ENSO and IOD are now starting to align in agreement that a LaNina Pulse and a strong IOD are likely to provide cooler than average temperatures and higher than average rainfall for the coming southern hemisphere spring and summer.
Indian Ocean Dipole
Spring forecasts are showing high potential in the models now for more than 2/3 of the country.
Weakening Magnetic Field impacts 13/05/2021
One of the key items I watch through the data being presented on this site is the Southern Polar Vortex. I watch this as it is a key indicator of the magnetic field strength. Currently the vortex is lose and wobbling out as far as mainland Australia.
Along with this there has been a strong indicator of the weakness by the most recent impact of a weak CME actually delivering a punch way above what was expected.
Please see a short 6min video describing what we are currently seeing.
Australia Building resilience 12/05/2021
The Australian federal government will establish a new agency to help communities recovery from large-scale natural disasters and manage the risks of future events. The National Recovery and Resilience Agency (NRRA) will provide support for disaster hit communities in both the short- and long-term recovery phases.
This is important in Australia due to our highly variable climate. Historically Australia swings from Drought to Flood and back with the periods in between being largely benign and stable. During the benign periods people generally get lazy and do not prepare for the extremes, or watch the changes occurring that indicate the change is heading toward drought or flood.
Moving into the future the NRRA will be funded to build resilience in our long term ability to respond and identify the extreme periods. Having a plan and being prepared builds resilience in the community as a whole.
The State of NSW commenced this direction by standing up a department in 2020 lead by the former RFS commissioner Shane Fitzsimmons who lead the most challenging bushfire season in modern times. The federal version of this resilience department will help communities rebuild and recover from natural disasters, helping many Australians in their greatest time of need, while strengthening our defences against future major disasters.
https://www.theland.com.au/story/7245779/new-govt-agency-to-support-large-scale-natural-disaster-recovery/?cs=4956
Early winter blast for SE Australia 09/04/2021
Well it's been at least 10-11 years since the last April cold blast – Oh look did you see the link there in the Solar Cycle? Well it is fairly predictable at this stage to say that we are likely to have a colder and wetter than average winter, due to the likely double bump LaNina pattern and the rapid sea ice rebuild occurring in Antarctica, which is largely due to the amount of fresh water created during the record summer melt.
What will this event look like?
This is a typical Winter pattern low pressure system with associated cold fronts. This is a double front system with the first one pushing through the SE of Australia today effectively pushing the warmth out of the way, and the following cold front delivers a stronger punch. However there is not much moisture attached to the event and it is likely that only light precipitation will occur in the form of snow. However there is likely to be extensive snow flurries in locations that would not normally see this until mid to late winter.
Powerful jetstream event is linking Polar air with Tasmania and the mainland.
Predicted snowfall are extensive for Tasmania, with models shifting only on depth but not much on locations now.
Winds are likely to be as strong as traditional Winter Cold fronts. Gusts in excess of 70kph are possible with 100kph possible in Alpine regions of the SE states. More on wind gusts can be found from Windy.com
In the Media:
https://www.news.com.au/technology/environment/unusual-factor-in-very-very-cold-snap/news-story/e348cba51bf6f68f6ae58901e171dc9b
https://www.theland.com.au/story/7193859/wintry-weekend-as-autumn-front-sweeps-in/?cs=4941
Rainfall totals for NSW/QLD flooding event are in.
Now that the rain has stopped, the totals for the last week are showing how large and dispersed the event has been. Multiple records in hundreds of locations have occurred and I will attempt to list them once the public data is released.
This widespread rainfall has landed over huge swaths of the Eastern Australian grain and fodder region.
How the season progresses will be largely dependent upon temperatures and follow up rain throughout winter.
Southern Polar Vortex is forming early.
The Antarctic polar vortex at 10hPa is forming a few weeks earlier than normal and seems to be quite large already, in fact I have missed the inception point of its creation due to many wet inclement days here with poor data access.
What are the implications? Each time we see the southern polar vortex starting up early it often is associated with a colder than average winter for southern parts of Australia and NZ. Currently the 10Hpa air is also colder than average according the JMA (Japanese Meteorological Agency)
Stay tuned for more updates on this as the pattern presents in the data over the next few weeks. We may be in for a very cold Winter. This sort of prediction is controversial to many, but I present raw data facts and link them to patterns shown through out history.
Rapid Antarctic Ice growth 2021
Over the last 40 days or so, the recording of Sea Ice around Antarctica has indicated a massive shift in the creation of new sea ice. Many in the GSM (Grand Solar Minimum) community have being saying it is due to the cold temps, but seem unable to show how the temps are anything out of the ordinary.
Plain and simple explanation: Fresh Water or water with less salt in it freezes faster.
If you look at the summer melt data you will see there is an extensive melt off of both sea ice and extensive calving of glaciers into the southern ocean. This has created a less saline environment and therefore fresh water freezes faster than saline water. Cause/Effect.
In many cases people are ignoring simple 101 science facts when it comes to how sea ice is formed. Ground level temperatures have been only marginally below average and it does not account for the mass increase in sea ice formation. The only logical reason is for the reduction of water flow around Antarctica and its increased level of fresh water being created by submarine and subglacial volcanoes creating larger amounts of fresh water.
In the graph below you can see the 2020/2021 summer was a near record melt season which is now followed by a record growth period. Einstein was right about many things. Every reaction will have an equal and opposite reaction. In this case we have shifted from above average melt to above average creation. Simple!
Prepare to leave now! 21/03/2021 0800
Thousands of residents of the NSW coastline including parts of Western Sydney are being told to be prepared to evacuate. Rain has continued through the night with rainfall expected to continue in some already flooded areas into Wednesday. This event is bringing the hydrology into uncharted territory according to Ian Wright, a water expert at Western Sydney University, who said the rapid urbanisation of the western Sydney area around the Warragamba since 1990 meant its spillover could no longer be reabsorbed by surrounding bushland.
https://www.news.com.au/technology/environment/sydneys-warragamba-dam-predicted-to-spill-this-afternoon/news-story/ddb45332c7e05a3509f3afa51a001b97
For those people in the Greater Sydney area, I think that the area of most concern, both to the Bureau of Meteorology and those impacted communities is the potential for very significant flooding across the Hawkesbury-Nepean River system below Warragamba Dam.
Parts of Northern Sydney are on high alert this morning as well with flooding occurring, closing low lying roads and intersections.
https://www.abc.net.au/news/2021-03-21/wild-weather-lashes-nsw-evacuation-orders-north-sydney/13264614
The NSW State Emergency Service (SES) is ordering anyone in low lying areas of Agnes Banks, Pitt Town Bottoms, Pitt Town North, Cornwallis, Grono's Point on the Hawkesbury and low-lying areas of North Richmond to evacuate.
The map below shows the general area being evacuated – This is not an accurate representation of the exact evacuations. Please see the SES.NSW.GOV.AU page for full and comprehensive evacuation details.
State warnings still in place for the following regions for heavy rain, strong winds and possible flash flooding.
Below is a video created by the SES a while ago with their hydrology prediction for flooding in the Sydney Basin for this type of event.
HUGE FLANNERY FAIL!
It must be exceedingly embarrassing for Tim Flannery when he sees all this rain falling across the many of the catchments he said would never fill again. And yet much of the left wing low brow media in Australia such as the ABC, Channel 9/10, Guardian, and others continue to protect this mans poor legacy at predicting climate events.
Unfortunately for Tim, he never researched deeply enough the cyclical nature of the Sun, Cosmos, and Oceans or he would have prefaced much of his statements with a chance of cyclical events occurring amongst his and others climate change alarmism.
In the Media –
https://www.abc.net.au/news/2021-03-21/nsw-weather-event-sweeps-away-couples-home-on-wedding-day/13264610
https://www.abc.net.au/news/2021-03-21/sydney-weather-live-bom-evacuation-warnings-flooding/100019438
https://www.smh.com.au/national/nsw-weather-live-updates-floods-across-sydney-and-nsw-as-more-rain-lashes-the-state-warragamba-dam-spills-20210320-p57ck5.html
https://www.news.com.au/technology/environment/when-is-rain-smashing-nsw-going-to-stop/news-story/129f9be31e9d79a8c51e4625bea101e2
https://www.msn.com/en-au/news/sydney/floodwaters-breach-parramatta-powerhouse-site/ar-BB1eM1fd?li=AAgfLCP
Flooding forcing evacuations, big wind event to follow the rain. 20/03/2021 0800
Crazy amounts of rain have fallen from Maitland through too Nambucca Heads with some totals close to 400mm in 24 hrs.
Rain will be continuing to fall for the next 3-5 days in some areas with more than 200mm possible on top of this event. This is to be followed up by a East Coast low that will generate coastal winds up too and potentially above 100kph.
This type of wind on top of saturated grounds will bring down many trees.
Please see my warning Video area below.
Media Reports –
https://www.news.com.au/technology/environment/australia-weather-live-updates-nsw-qld-prepare-for-weekend-of-dangerous-storms/live-coverage/264d43588c549ab53802f7a93ca00d8a
https://www.9news.com.au/national/australia-breaking-news-live-weather-forecast-sydney-nsw-flood-evacuations-port-macquarie-kempsey-rain-sydney/daf7f7ac-b78a-48aa-840e-f3e11103bbcf
https://www.abc.net.au/news/2021-03-20/nsw-severe-weather-warnings-see-evacuations-rescues/13264384
https://www.skynews.com.au/details/_6242067939001
Flooding commences in Coastal NSW and Remote Queensland 19/03/2021 0900
Well its looking like the predictions of this event are under forecast yet again.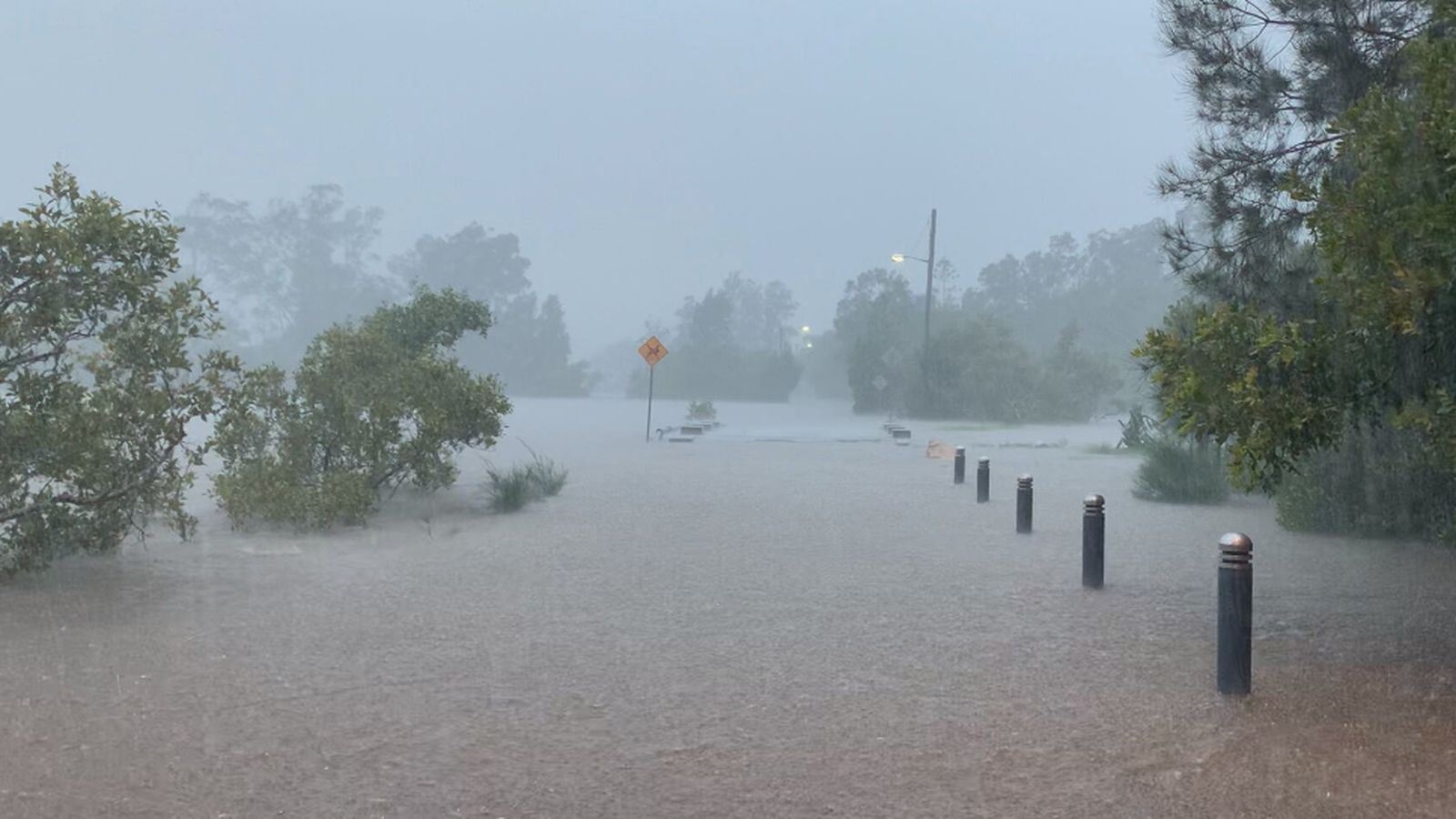 Please see radar from Windy.Com
Sydney is looking like deteriorating conditions will force many people to be cut off, extremely dangerous driving conditions with low lying areas to be impassible. Winds are picking up with the onshore wind driving moisture inland.
NSW Rainfall totals for previous 24hrs
Sydney's catchment is filling fast:
In the media this morning:
https://www.smh.com.au/environment/weather/downpour-sweeping-across-eastern-states-to-continue-20210319-p57c4q.html
https://www.abc.net.au/news/2021-03-19/bom-weather-forecast-dangerous-nsw-rain-floods-over-weekend/100017410
https://www.news.com.au/technology/environment/deluge-continues-to-hammer-east-coast-ahead-of-lifethreatening-weekend-weather/news-story/cdbeeb10baa925f4f9f578c07fcb9351
https://www.9news.com.au/national/national-weather-forecast-severe-storms-rain-persists-for-east-coast-flooding-nsw-queensland-northern-territory/dc6535cf-0a17-445d-8979-415a1de98505
Pests becoming an issue for Australian Agriculture
Over the last 12 months the number of pests building a foothold in Australia has increased due to the flip from brutal dry drought, to a booming lush landscape with bumper crop yields. Australia is a boom/bust agriculture nation where there is no stable and reliable irrigation.
Fall Army Worm –
The best description is found on the following YouTube playlist from NSW DPIE. https://youtube.com/playlist?list=PL4zlvcUKKUmViy1yl-4bdcerUW5Y-RTUo
They are a tropical to subtropical pest. Small larvae will be difficult to identify in the field, but they are often pale green to brown, with a dark head capsule. Larger larvae have some characteristics that make identification easier, these include similar colouration to other Noctuids, but they have:
A dark head capsule with a distinct upside down Y shape between the eyes
Two dark dots with spines on each upper body segment
Four dark spots arranged in a square on the last abdominal segment
Three pale lines running the length of the body may be seen on larger larvae.
https://www.lls.nsw.gov.au/help-and-advice/pests,-weeds-and-diseases/biosecurity-alerts/biosecurity-alert-fall-armyworm
https://www.dpi.nsw.gov.au/__data/assets/pdf_file/0005/1205735/fall-armyworm-poster.pdf
Fall armyworm was first detected in Australia in 2020 and has moved south from Queensland into NSW. In NSW FAW was first detected between Moree and Boggabilla in late September 2020. NSW DPI, LLS and other collaborators established an early warning trapping grid across the north and south of the state. FAW has now been detected in all key summer cropping regions of NSW, including the LLS regions of the North Coast, Northern Tablelands, North West, Hunter, South East, Central West, Riverina and Murray.
Field Mice –
Due to our large shift from Drought too wet lush high yielding crops, many of of the natural pests in Australia have boomed. Mice are a regular re-occurring pest in our ecosystem. If you do a quick search across our media history you will find nearly every major shift from bust too boom brings mice out.
Recently areas in NSW that had tremendously good barley, wheat, and sorghum crops have had an increase in field mice. This is often but not always attributed too poor farming techniques or low quality storage devices.
Currently this plague is only in small plots and not as widespread as previous events. However the impacts are being felt by many residential properties on farms and near farming communities that have large mice numbers in their region.
Media coverage.
https://www.theland.com.au/story/7170459/mice-plague-threatening-nsw-winter-crop/
https://www.abc.net.au/news/2021-03-18/mice-plague-nsw-worsens-and–affecting-crops/13255486
https://www.abc.net.au/news/rural/2021-03-16/health-concerns-as-poisoned-mice-found-in-water-tanks/13248938
Flooding expected in Eastern Australia 18/03/2021 0900
2021 has been a very good rainfall year for much of Eastern Australia so far. Although there are still many areas that have not received comprehensive and repeated rainfall amounts to remove their drought status, the majority of areas have received more than the average rainfall.
Rainfall even from 15th March through 27th March. – This event is a combination of a blocking high pressure system pushing moisture laden air into trough and frontal systems crossing the country. This combination creates intense rainfall particularly along the elevated great dividing range – which is a mountain range that runs from the far south in Victoria right up to far north Queensland. Rivers on the Eastern side run to the Ocean and are short, but usually flow through coastal towns and cities. These rivers often flood into populated areas when high rainfall totals occur.
Rivers that flow west have a very long path too follow with the majority of the area expecting high rainfall totals to fill our largest river catchment area that supports the most farmers. The Murray and Darling river catchment will be likely given a good flush from this event. This has not occurred for quite a while. The area in ORANGE below is the MDB catchment aforementioned.
The predicted weather – I will preface this with a statement that I am presenting ECMWF and GFS model data but I will also state clearly, I feel the prediction is light on and the rainfall totals will exceed predictions.
Some catchments are already wet – The following are rainfall totals for QLD and NSW showing some of these rivers have already received good early rainfall and some have saturated catchments already.
Forecasts from Models – The following are models from 18th March 9am.
ECMWF via Windy.
GFS via Tropical Tidbits showing the 384 hr totals.
Sydney basin believed to be at risk
Media is reporting that as the system intensifies the scale of the event is elevating.
Current Sydney dam levels are at 93/94%
If you live in a low lying area in the Sydney basin, please use this link to evaluate your flood risk – https://www.ses.nsw.gov.au/hawkesbury-nepean-floods/
My historical forecast – Late last year on my previous facebook account I felt the pattern of weather matched very closely to that of the 1956 floods that did millions of dollars of damage, that in todays terms would be billions of dollars damage. There are strong similarities in the event alignments.
Current Media reports –
https://www.smh.com.au/environment/weather/queensland-on-high-alert-over-wild-weather-20210317-p57bpk.html
https://www.smh.com.au/environment/weather/severe-weather-warnings-for-nsw-20210318-p57bvv.html
https://www.news.com.au/technology/environment/fresh-band-of-moisture-set-to-bring-huge-amounts-of-rain-to-east/news-story/0598fac659033739b42c001f14571ec3
https://www.abc.net.au/news/2021-03-17/sthqld-flooding/13255888
https://www.theland.com.au/story/7170705/more-soggy-days-of-storms-and-rainfall/?cs=4941
https://www.news.com.au/technology/environment/warnings-of-flooding-in-sydney-as-rain-deluge-swamps-eastern-australia/news-story/cc393c19670c9eb0a536dd716fe65974
https://www.theland.com.au/story/7170519/la-nina-delivering-final-gift/?cs=4937
https://www.abc.net.au/news/2021-03-18/sydney-drivers-warned-to-be-on-alert-due-to-heavy-rain/100015758
https://www.dailymail.co.uk/news/article-9374561/Sydney-Victoria-brace-flooding-NSW-mid-north-coast-issued-weather-warning-amid-heavy-rain.html
BOM WARNING:
More to come as the event evolves.
Early Frost March 15 2021 South Eastern Australia
Last night when I saw the forecast for 1c I felt that due to the large amount of rain in the previous day that there was no chance of a frost occurring. Not only was I wrong, I have had damage to vegetables in the garden. Frosts are a common thing in my region from mid to late April. But its the 15th of March and is still technically Summer as the Vernal Equinox does not occur until the 20th of March.
These are pictures I took that show the frost from this morning.
Potential March Snow
Australia has two months of the year that snow is nearly a 0% chance with no discernable accumulation occurring which is February and March. Recently though Antarctica has been sending us early cold messages in late March or early April. "This is considered by nearly all meteorologists and climatologists as an anomaly". Yet its looking like its going to be another anomalous year of early cold and snow. 2019 saw snow fall in the alps as early as the 30th of March. https://www.smh.com.au/environment/weather/hey-winter-you-re-early-snow-falls-at-perisher-thredbo-20190331-p519bj.html
Current GFS models are forecasting up to 15cm of snow to fall on the NSW and Victorian peaks in the main alpine range "snowy mountains" GFS 12z March 14 shown below. This is expected to fall between 28th and 29th.